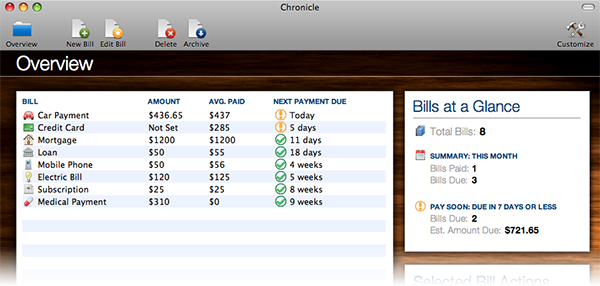 NEW!

View Upcoming Bills and Make Payments Online From the Menu BarChronicle includes a menu bar extension (Snow Leopard Only, not available in Mac App Store version). You can easily pay bills online and log payments from the menu, even when Chronicle isn't running. How It Works
1. Never worry about missing a payment.
You don't need to wonder if you've paid the bills this month or not—Chronicle remembers for you. Late payment fees can cost $30 or more. Why risk it? Chronicle never forgets! It keeps track of all your bills, and reminds you when each one is due using iCal—even when neither program is running.
2. Set goals to reduce or eliminate debt.
Paying off debt can be a daunting task. Let Chronicle help. It assists you in setting goals and tracks your progress as you pay your bills. Seeing your progress is a great motivator!
3. Keep your payments and receipts organized.
Chronicle remembers your payment history for each bill, and even organizes scanned or downloaded receipts by date, so you can quickly find and view them for reference or proof of payment.
4. See spending history and trends with stats.
Chronicle analyzes your payments by month and year and displays the information for you grapically. Plus, it averages your payments so you can better budget for bills that fluctuate, like utilities or credit cards.
5. Quickly view all your bills and pay online.

The sortable overview screen shows, at a glance, when each bill is due. Colorful icons alert you when a bill is overdue, due soon, or due in the future. With a couple clicks, you can log payments or make payments online.
Watch a Video Walkthrough and Review of Chronicle
Video review and walkthrough by Chronicle user Jeremy Lester. Visit his YouTube channel here.
What's New in Chronicle?
Want to keep track of the updates to Chronicle? View the Chronicle Update Feed. You can also subscribe to this feed using your favorite RSS reader.
What Our Customers Say
--Or, Buy From Our Store--
Ratings

Screenshot Gallery
Reviews
Mac360: "Chronicle's approach is straightforward ... [It] does 5 things very well. Collectively, they add some stress reduction to your financial life..." Full Review
The Easy Mac: "...a great simple app to keep track of your monthly bills and to give you a visual on how you are doing with your bills or credit card payments." Full Review
MacStories: "I found the app that works for me. It's simple yet powerful, with all the features that I need and a very good interface. It's called Chronicle 3." Full Review
IT Reviews: "Highly effective ... Slick, attractive bill reminder software for the Mac. ... it'll pay for itself the first time you don't miss a credit card payment." Full Review
Awards: Chronicle was awarded the Recommended award from IT Reviews. Apple also selected it as a Staff Pick for finance software.
Even More Features!

Alerts on your iPhone
Reminders are automatically added to iCal, so they appear on your iPhone automatically when you sync. With MobileMe, bill reminders are pushed to your iPhone (or iPod Touch) instantly.

Customize Chronicle's Appearance
Make Chronicle look the way you want with three professionally designed themes. Each theme is unique and gorgeous.

Enter payments lightning fast
Log payments in two clicks, without ever leaving the overview screen. Use keyboard shortcuts to perform actions.

Colorful icons identify your bills
Add as many bills as you want. Each can be represented by one of over 30 colorful icons.

Pay your bills online
Chronicle can take you directly to your billers' website to pay your bills.


System Requirements: Chronicle requires Mac OS X Leopard or greater, and is Snow Leopard compatible. Tiger Users: Chronicle 2 is available and still supported for those using Tiger. To download Chronicle 2 for Tiger, click here.

Free Upgrades. Forever.
We understand. Part of the excitement of owning software is the updates and new features that are released. That's why LittleFin offers free upgrades for life on all our software. It doesn't matter if we make small changes or massive upgrades. All updates are always free.
Contact Us Anytime.
If you have any questions about your copy of Chronicle, don't hesitate to contact us. We make every effort to respond to all messages within 24 hours, and usually respond within a few hours. Many of the features added to Chronicle are at user request, so if you have an idea (big or small), let us know!
Who Is LittleFin?
LittleFin LLC is a small Mac development company with a big goal: to create smart, easy-to-use Mac software. We have a passion for design and strive to make software that is as nice to look at as it is functional. Despite the shark fin in our logo, LittleFin is named after our beloved (but sadly now deceased) office pet, a beta fish.