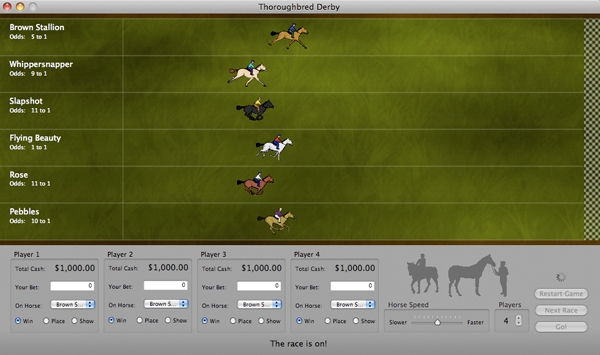 Thoroughbred Derby is a simple horse race betting game. Select your horse and bid amount, and then watch the horses race across the track!

Will you bet on the horse with the best odds, or will you risk it all by betting on the long shot? The choice is yours!

See how much money you can make, as Thoroughbred Derby automatically keeps track of the record amount of money earned.

Play alone, or with up to three other friends.

System Requirements: Thoroughbred Derby is designed for Mac OS X Tiger (10.4+) or Leopard (10.5+). A resolution of at least 1024x768 is preferred.

Free Upgrades. Forever.
We understand. Part of the excitement of owning software is the updates and new features that are released. That's why LittleFin offers free upgrades for life on all our software. It doesn't matter if we make small changes or massive upgrades. All updates are always free.
Contact Us Anytime.
If you have any questions about your copy of Chronicle, don't hesitate to contact us. We make every effort to respond to all messages within 24 hours, and usually respond within a few hours. Many of the features added to Chronicle are at user request, so if you have an idea (big or small), let us know!
Who Is LittleFin?
LittleFin LLC is a small Mac development company with a big goal: to create smart, easy-to-use Mac software. We have a passion for design and strive to make software that is as nice to look at as it is functional. Despite the shark fin in our logo, LittleFin is after named after our beloved (but sadly now deceased) office pet, a beta fish.